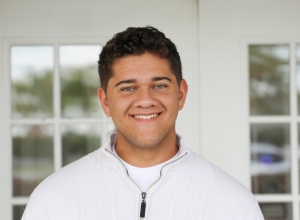 Development Officer
noahhayden@berriencommunity.org
269-983-3304
Tell me an interesting/fun/cool fact about yourself.
I collect quarters! My collection includes a quarter of every state from both the Denver and Philadelphia mints as well as the America the Beautiful Quarters. I am looking forward to collecting the American Women Quarters that released this year.
Give me a snapshot of your work history.
At 15 I got my first job at Mimi's Cupcakes in St. Joseph. I have always loved baking, so working at a bakery was a perfect fit for me to enjoy my hobby without making my own kitchen a mess! I also spent a couple football seasons in high school as the end zone cameraman for Benton Harbor Football and Berrien Springs Football. In May of 2021, I started my internship with Berrien Community Foundation. I loved the job so much that I never really left once senior year of college started up. I worked part time on a project-basis throughout the 2021-2022 school year and in May 2022, I became a full-time Program Officer for the Foundation.
Give me another snapshot of what it is you do here at BCF.
I am a Program Officer at BCF, which mean I work with grants and scholarships; however, I focus mainly on scholarships by planning the scholarship celebration and administrating the intake of scholar information and distribution of the scholarship funds.
How do you get involved in the community?
My connection to the community is found mainly through my job at BCF. I love being a part of the volunteer projects that we do such as Backpacks for Good and Supply Drive and the Feeding America food trucks that we do. Outside of BCF, I am a member of the Community Restorative Board, which is a volunteer panel through the Berrien County Courthouse that works with juveniles on their first offense to rehabilitate them back into the community and allow them to learn from their mistakes. 
How do you like to spend your time outside of work?
Friends and family are what is most important to me. My neighbors are an extension of my family and I spend most of my time after hours with them. I really enjoy going to the beach and getting some sun, as well as travelling to new places! Visiting every national park is on my bucket list. So far, I have been to Haleakala NP in Hawaii, Great Smoky Mountains NP in Tennessee, and Mammoth Cave NP in Kentucky.
What kinds of activities energize you?
My competitive side comes out when I am playing tennis with my friends!
What's something you've done, but you'll never do again?
I will never stay at an Embassy Suites again. I am terrified of open heights (ladders, balconies, ziplines, cliffs, etc.) so staying in a room at the top floor of an Embassy Suites and having to walk around the balcony because the room is on the opposite side of the elevator making me cling to the wall and not look down…..never doing that again.
What's your favorite place to eat around here?
This one is so difficult to answer because I am a foodie and I love all types of cuisine, but if I had to choose my favorite place to eat, it's Tim's Too in St. Joseph.
What is the one thing you cannot resist?
A slushy from Celebration Cinema. Highly recommend. If you have not tried one yet, you are missing out. The Meijer slushies do not even compare. Celebration's slushies are so smooth and are paired with popcorn perfectly!!
What's the most unusual job you've ever had?
Definitely my job here at BCF! You never know what to expect.
What's one of your favorite parts of your job?
My favorite part of my job is seeing all the people and organizations that are doing good work in the community and how they are inspired by what they do. It reminds me of the good in people and, with everything going on in the world, it restores my faith in humanity.
What makes you excited to work at BCF?
We really are a family here at BCF, so coming into work every morning and being in this social circle is always exciting!
Contact Noah by clicking here.