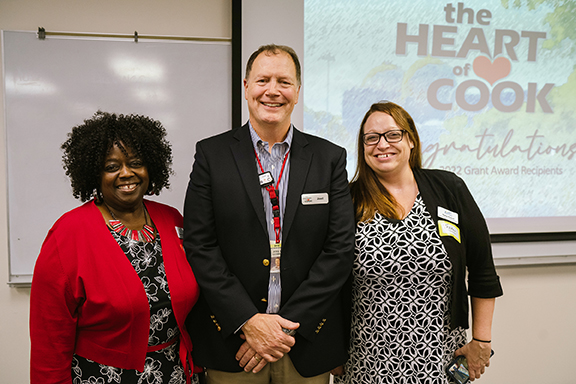 The Heart of Cook has awarded grants to 29 area nonprofit organizations, totaling $78,561 at a grant reception at Indiana Michigan Power's Cook Nuclear Plant on June 9. The Heart of Cook is a corporate-advised fund held by the Berrien Community Foundation.
"It certainly was great having the opportunity to personally hand out these grant awards after a two-year break from our in-person receptions," said American Electric Power's Senior Vice President & Chief Nuclear Officer Joel Gebbie. "The people working for these incredibly important organizations put so much effort into the work they do to make our community better. It certainly makes our 'Hearts' proud to be able to support them not only with a check, but with the warm handshake of gratitude they deserve."
The 2022 Heart of Cook grants will support a wide range of programming with everything from food pantries to community outreach to summer camp for kids. The Heart of Cook focuses on programs that address education, human services and environmental projects, and gives priority to programs that involve a Cook Nuclear employee.
While the Heart of Cook grant program is administered by the Berrien Community Foundation, a committee comprised of Cook Nuclear Plant employees review all grant applications and make decisions. After receiving 41 applications totaling more than $235,000 in requests, the Heart of Cook Grant Committee certainly had its work cut out for them in the decision-making process.
This year, the Heart of Cook committee selected the following organizations as winners of the 2022 Heart of Cook Grant:
The Acorn Center for the Performing Arts
Advancing Christ's Kingdom Ministries – Michigan City
The Avenue Family Network
Benton Harbor Department of Public Safety
Benton Harbor Public Library
Berrien Area Hockey Association
Berrien Community Foundation
Berrien County Youth Fair Association, Inc.
Boy Scout Troop 603
Bridgman Blessing in a Backpack
Feeding America West Michigan
Ferry Street Resource Center
Girl Scouts of Northern Indiana-Michiana
Green Bridge Browers
HOPE Resources
Lest We Forget
Living Epistle Fellowship
Lory's Place
Lybrook Elementary School
Oronoko Charter Township
Readiness Center
The Region of Three Oaks Museum
Senior Nutrition Services
Spring Creek Horses Help Foundation
St. Augustine of Canterbury Tiny Houses for Big Change
St. Joseph High School Key Club
St. Joseph Township Fire Department - Station # 1
St. Margaret's House
­­Summit Financial Wellness
Three Oaks Township
Vista Maria
Youth Development Company/PAL
Grant applications for 2023 will be available in January by contacting the Berrien Community Foundation at www.berriencommunity.org.
Cook Nuclear Plant is owned and operated by Indiana Michigan Power, an AEP company, headquartered in Fort Wayne, IN. At full capacity, the 1,084-net MW Unit 1 and 1,194-net MW Unit 2 combined produce enough electricity for more than one and one half million average homes. Indiana Michigan Power and its approximately 2,100 employees serve more than 599,000 customers. More than two-thirds of its energy delivered in 2019 was emission-free. I&M has at its availability various sources of generation including 2,278 MW of nuclear generation in Michigan, 450 MW of purchased wind generation from Indiana, more than 22 MW of hydro generation in both states and approximately 15 MW of large-scale solar generation in both states. The company's generation portfolio also includes 2,620 MW of coal-fueled generation in Indiana. For more information visit www.indianamichiganpower.com or www.cookinfo.com.
Berrien Community Foundation is a center of philanthropy in Berrien County holding endowment and other funds to support programs and projects throughout Berrien County.  These Community Foundation funds support the ever-changing needs of Berrien County now and into the future.  With more than $90 million in assets, the Foundation provides grants and scholarships plus opportunities for individuals across the County to fulfill charitable intentions through life-end giving and estate planning. For information about BCF, call 269-983-3304 or visit www.berriencommunity.org