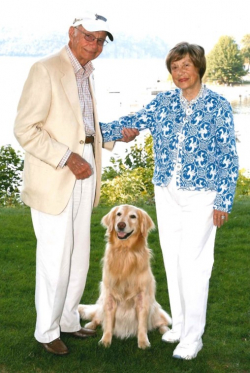 Nonprofit organizations can now apply for the $50,000 Stephen E. Upton Love Your Community Grant to expand their work and make a difference in Berrien County. The first step is submitting a letter of intent explaining their project by June 1.
"One thing all past winners have in common is that they are standing in the gap and providing services that can be life changing," BCF President Lisa Cripps-Downey said. "This grant opportunity, started by Stephen Upton to show his love for our community, is about making sure nonprofits have the resources they need to continue making a deep impact locally."
Carol's Hope was the latest nonprofit to receive the grant. Carol's Hope in St. Joseph is a 24-hour crisis intervention facility for individuals struggling with substance abuse.
"This generous award assisted us in providing community members with over 3,500 support sessions via telephone or virtual platform and serving over 600 clients with in-person recovery-oriented services," said Chris Slater, Executive Director of the Community Healing Centers. Carol's Hope is one of several addiction treatment and recovery establishments under Community Healing Center's wing.
The Ferry Street Resource Center is another past recipient of the Stephen E. Upton Love Your Community Grant. The Niles nonprofit acts as a one-stop shop for many people seeking assistance with housing, food and employment.
"The Love Your Community grant was instrumental to Ferry Street Resource Center and its clients," said Executive Director Ric Pawloski. "We were able to help the chronically homeless find homes and grew relationships with local landlords to help others find stable housing. We have built relationships with employers and helped people find employment. We have loved our community through this grant, met needs, and built bridges."
The Stephen E. Upton Love Your Community Grant is open to nonprofits serving Berrien County. Winning projects will:
Address a crucial community need,
Make a positive impact in the lives of Berrien County residents,
Demonstrate the ability to be sustainable when funding is concluded; and
Demonstrate collaboration.
The application process begins with submitting a letter of intent by June 1, 2022. To apply, visit www.berriencommunity.org/lovecommunity. A select number of applicants will be asked to submit full grant proposals. Agencies selected will receive a standard grant application due in August. The winning project will be announced at the Berrien Community Foundation Annual Meeting in September.